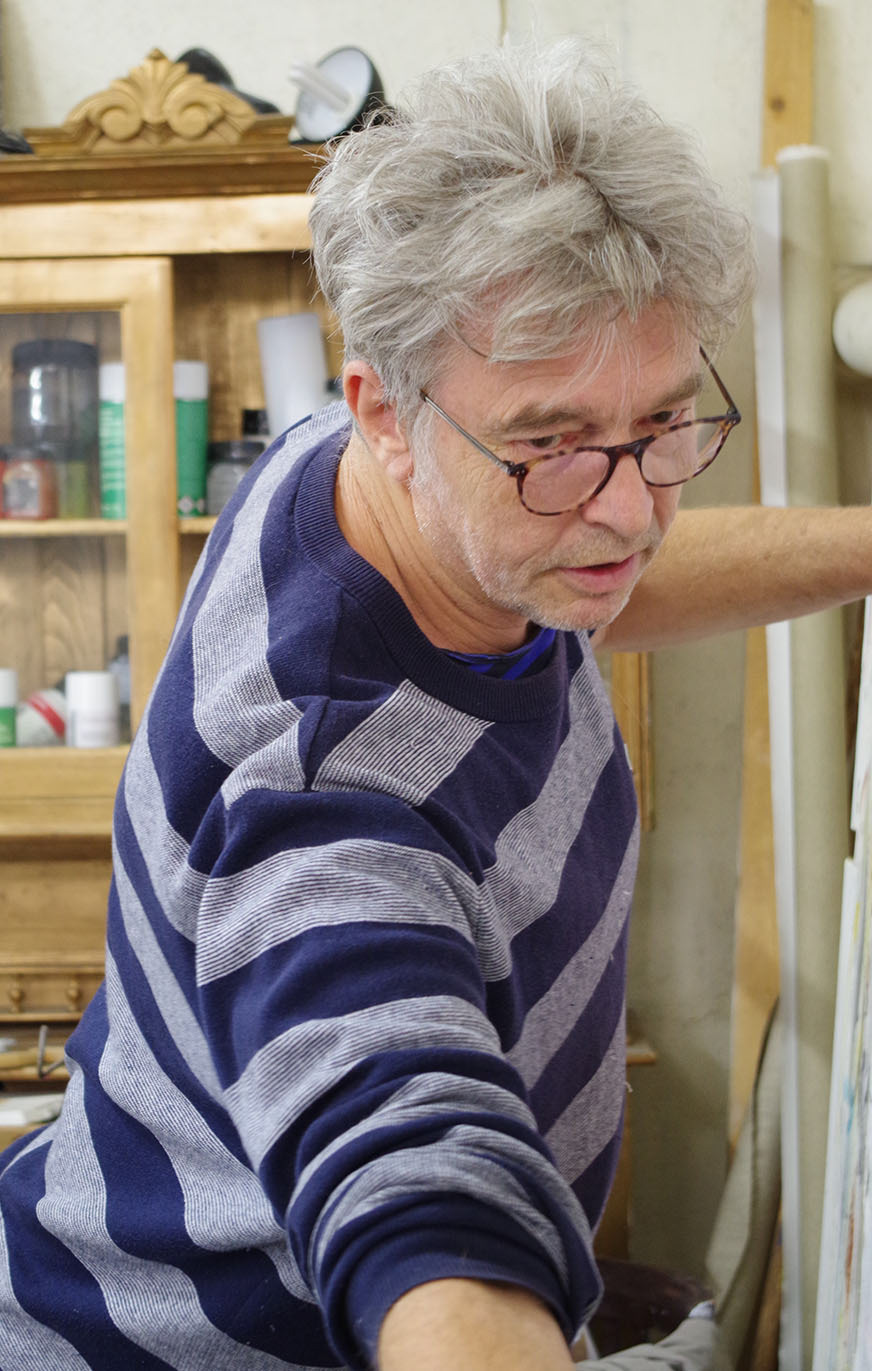 I am a French/South African artist, based in Bordeaux - France.
I came to France at the age of eleven, but have always maintained a very special relationship with South Africa.
I went to the Bordeaux School of Fine Arts and since, have presented my work in various galeries and countries in Europe and Africa.
Photography is usually at the heart of my work process, sometimes used as such, sometimes mixed with painting or digital techniques that I have developped over the years.

Exhibitions and residencies since 2010 (exerpts)
Group exhibitions and art fairs

2022 Galerie DX - Spring Group Exhibition - with C. Garnung, E. Leblanc, C. Cecchella ... - Bordeaux
    L'Art Secret à Bonnieux with Anne Bothuon, MagdaMoraczewska, Nadine Vergues... - Bonnieux
    Galerie Dousdebès & co - Saint Emilion
2021 Christie's Bordeaux - with Barbara Schroeder, Luc de Muelenaar, Clément Garnung - Bordeaux
    Galerie Dousdebès - Saint Emilion
    Galerie DX - Contemporanéités Singulières #2 - with D. Daleas Bouzar, R. Butler ... - Bordeaux
    Art fair : Afriques au Carré - with galerie MC2a and Shamwari - Paris
    Galerie DX - Shapes of the soul - with Luc Detot, Serge Labégorre... - Bordeaux
2020    Galerie Demptos - Saint Emilion
    Group exhibition - The Project Space - Johannesburg
    Galerie l'App Art - Périgueux
2019    Conversatons - with A. Clements, B. Schroeder, C. Garnung ... Chapelle du Carmel - Libourne
    Contrastes - with Clément Garnung, Supakitsch... - Galerie 1809 - Marseille
    Opening exhibition with SAFFCA - MECA - Bordeaux
    L'art secret à Bonnieux with J. Dijkmeijer, J.P. Taris ... - Bonnieux
    Eulogy: A tribute to Benon Lutaaya - Lizamore and Associates Gallery - Johannesburg
    Connecting Contemporary - Shayne Girardin curator - Périgueux
    Les mercredis de la photo, C dans la boîte - Bordeaux
2018    La semaine des Afriques with Nelson Makamo, Benon Lutaaya ...- Bordeaux
    Solo exhibition (with Joris Dijkmeijer) - Centre Culturel du Bois Fleuri - Lormont
    Galerie Demptos - Saint Emilion
    Africajarc - Cajarc
2017    Galerie Arrêt sur l'Image, presentation of the SAFFCA  collection 2017 - Bordeaux
    Galerie Demptos - Saint Emilion
    Connecting Africa - Excideuil
    Migrations : La Jeune Garde - Bordeaux
2016    Cape Town Art Fair with Gallery MOMO - Cape Town
    Galerie L'App'Art - Périgueux
    Galery MOMO -Cape Town
    Art Up ! Art Fair - Rouen with Galerie Maxanart (La Bastide Clairence)
2015    FNB Art Fair with Gallery MOMO - Johannesburg
    Cape Town Art Fair  with Gallery MOMO -  Cape Town
    Galerie Aude Guirauden - Toulouse
2014     Galerie Demptos - Saint Emilion
    C dans la boite - Bordeaux
2013     CCAS / C dans la boîte - Bordeaux
    Galerie Demptos - Saint Emilion

2022  

Revenir - Verteillac

(24) - France
2020    Où tombe l'ombre with Steph Goodger - Forum des Atrs - Talence
2019    La semaine des Afriques - Le Rocher de Palmer - Cenon
2018    Centre Culturel du Bois Fleuri - Lormont
    Galerie Gérard Sekoto - Alliance Française de Johannesburg
2015    Home : Gallery MOMO - Johannesburg
    Je m'en souviens j'y étais - with Eric Chabrely : La Capelle Saint-Loup - Saint Loubès
2014     Alliance Française - Bordeaux
2013     Epace Eric Tabarly - Paray Vieille Poste, Paris
2012     Groupe Scolaire Saint Paul - Angoulème
2011     Etablissement Français du Sang - Bordeaux
2010     La Mégisserie - Niort
    La Morue Noire - Bègles
2020    Lambda : 3 one week residencies with "Les Créants" to prepare a show mixing theatre and visual
    arts on the theme of the feeling of invisibility.
2018    2 month residency at August House with SAFFCA and The Project Space - Johannesburg
    11eme Rencontres Internationales de Fès - Morocco
2017    Les Créants : Ramallah (11 to 19/02) / Bordeaux (15 to 20/04) - Palestine / France
    Residence de recherche  - GRS Mémoire / Neurosciences du CNRS - Porquerolles
2015    3 month residency at Gallery MOMO - Johannesburg